Exhibition
CREATE Centre, Smeaton Road, Spike Island, Bristol, BS1 6XN
8–21 Feb 2019: Mon–Fri, 10–18.00
Preview: Thursday 7 Feb, 17.30–19.30
Established in 2018, Repair Acts Focuses on critical, applied, artistic, scholarly and civic practices, which deal with the care, upkeep, maintenance and reuse of objects, materials, buildings, broken systems and processes. Repair Acts addresses how the broken, disconnected and discarded can act as a focal point, through which understandings of the consequences of our material lives on the environment and other species is produced.
The Repair Acts Exhibition emerges from an on-going dialogues among Repair Acts network members, as well as early-stage research into the history of repair business in Bristol and prior research on mending practises in the South West of England. Contextualised within wider debates relating to circular economics, manufacturing and sustainability goals, the work exhibited focuses on labour practices, the aesthetics of failure, planned obsolescence and the contemporary relevance of tradition, craft and skill.
The work collectively reflects on the fragility of the material world and our bounded, physical, entanglements with it. As Elizabeth V. Spelman notes in her book 'Repair: The Impulse to Restore in a Fragile World' (2003):
'To think about repair requires us to recognize our own failures and imperfections and those of the world we live in…' (p. 138).
These imperfections in part, relate to what infrastructure scholar Steven Jackson calls 'broken world thinking', whereby life itself is constituted in relation to the care of existing 'things', as opposed to the continual invention of the new. This orientation is identified by Mierle Laderman Ukeles in her seminal 'Manifesto for Maintenance Art' (1969) as the 'life instinct', which she describes as the eternal return to doing what is required for the maintenance, equilibrium and survival of all species. It is also expressed through the language of 'articulation work' (Leigh Star and Strauss, 1999) or what Ingold (2013) calls 'thinking through stuff', and the lively knots that emerge when we make, mend and build.
Extending beyond notions of making, the exhibition also looks towards the daily labours involved in picking up, sorting out and dealing with dirt, the discarded and wasted. Drawing on the work of exhibiting artist Ravi Agarwal, we also place our conversation about repair, care and maintenance within what Agarwal refers to as the 'invisible terrains of marginality' that make up our 'contemporary global understandings of an anthropogenic planetary future and ideas of progress'.
Upcoming Local Fairtrade Events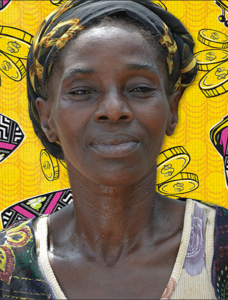 Fairtrade Fortnight, the national annual initiative led by the Fairtrade Foundation, runs from Monday 25th February to Sunday 10th March. With two whole weeks to get involved, there's plenty of time to explore what's on, or even stage your own Fairtrade event for friends and family or the wider community. If you're hosting an event in or around Bristol and want people to know about it, send us details and we'll list it on our Events Page. Read on to discover more unmissable events happening near you…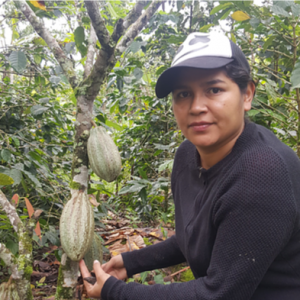 Fairtrade Fortnight Bristol Social
Monday 25 February
7 – 9pm
Palestine Museum
You're all invited to welcome in the start of Fairtrade Fortnight with food, producer talks and more at this open social at the Resbite Café, part of the Bristol Palestine Museum. ​ This event is free, but please register at this link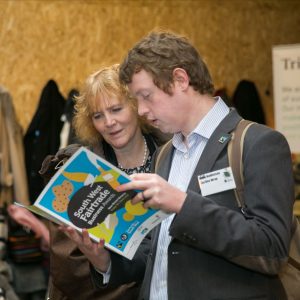 South West Fair Trade Business Awards
Friday 8 March
11.15am – 2pm
Arnos Vale Cemetery
Join us for our flagship event to celebrate organisations supporting Fair Trade through their business in the South West. The ceremony is a great place to network with ethically-minded professionals. Click for more details and tickets.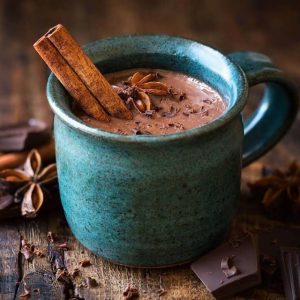 Chocolate, Rum & Spice with Better Food
Friday 8 March
6.30 – 8pm
Better Food, Wapping Wharf Café
There's a whole world of Fairtrade beyond tea and bananas, so join Better Food to indulge in some fairly traded luxury. There'll be boozy hot chocolate, sweet treats and talks, so snap up tickets quickly!
Transformabin is now at Create!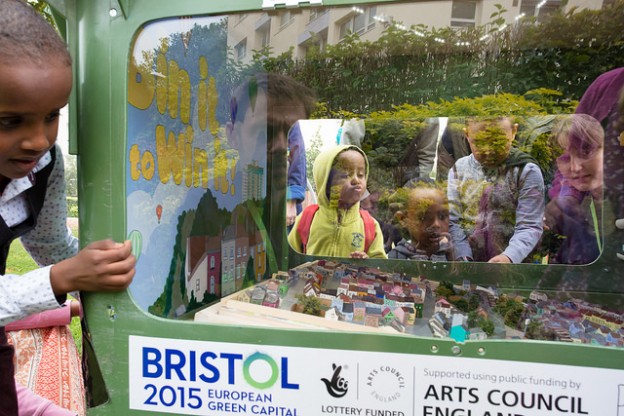 As part of Bristol's 2015 Green Capital celebrations, 14 unique community inspired projects were commissioned for each of it's Neighbourhood Partnerships. Mufti Games with Baggator Young People's Project successfully pitched to Ashley, Lawrence Hill and Easton Partnership to create a fun project highlighting issues relating to household waste, fly-tipping, and recycling in the local area.
From this the Transformabin was created; a communal bin converted into a playable games station. The simple labyrinth style game highlights the effects that waste has on our city, combining fun and imagination with a positive envorimental message.
The Transformbin is a permanent fixture at Create and can be found in our gallery,
Monday to Friday, 9-5pm.
Regular Activity

'The UK discards nearly a million tonnes of textiles every year ' (WRAP)
This exploration of some of the aspects of textile sustainability consists of two parts. Firstly the CREATE Centre hosts a permanent exhibition of information about textile sustainability, including advice, explanations, and facts and figures. This exhibition is open during CREATE opening hours. The second part is the practical activity days that take place on most Wednesdays from mid morning to mid afternoon. Here the exhibition is extended to include examples of domestic items made from fabrics that would otherwise have been sent to landfill. In addition, such items as cushions, tea cosies, table mats and many other items are being made on the spot, with the intention of encouraging visitors to start or continue their own work. At all the times the exhibition and practical activities are open, free small fabric pieces are usually available so that visitors can take them to incorporate in their own projects.
FABRICation is run by Mike Timmins, who is experienced in decorative textiles as well as textile science and technology.