Blue Glass winners at Fairtrade Business Awards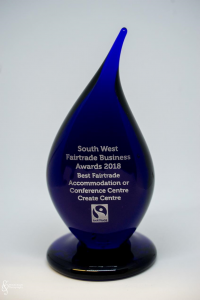 The Create Centre has won another Gold award for Best Fairtrade Accommodation or Conference Centre at the Fairtrade Business Awards 2018. We were also the overall winner in the same category with the team picking up a beautiful Bristol Blue Glass trophy.
The sixth annual South West Fairtrade Business Awards ceremony took place on Friday 9th March in the Bristol Brewery School – a hidden gem and a working brewery in the heart of Bristol.
'The Create Centre's commitment to Fairtrade is commendable and I'm very pleased that it continues to be recognised for its efforts to promote this ethos to visitors. Being part of the Fairtrade movement brings more equality to producers abroad, providing them with a steady income and is a simple way to make a  difference to their lives. Bristol City Council is proud to promote these ideals and I hope many more residents will join us in supporting Fairtrade.'


– Cllr Asher Craig, Deputy Mayor for Communities, Equalities and Public Health

'The team at the Create Centre are dedicated to supporting Fairtrade, working hard to raise awareness to all our visitors and organisations based at Create. We would like to say a massive thank you to Danni Rochman from Fairtrade South West for arranging an amazing ceremony and bringing together other like-minded organisations for a great networking event.'


– Michelle Scoplin, Senior Create Officer
---
Create Centre wins Gold Fairtrade Business Award
The Create Centre has won a gold award in the Best Fairtrade Accommodation or Conference centre
category at the 2017 South West Fairtrade Business Awards. Held, this year, at Bristol Cathedral, the event celebrates the region's most active and dedicated Fairtrade organisations, and their achievements.
We are very proud of our continued success at these awards. Fairtrade is very important to Create, we'll always be looking at more ways in which we can spread awareness and educate.
---
Create Centre wins two Gold Fairtrade Business Awards
The Create Centre has won two Gold awards at the 2016 Fairtrade Business Awards ceremony.
The centre was awarded Gold for Best Fairtrade Office and Best Fairtrade Accommodation or Conference Centre.
Create, which is also a Green Tourism Goldstar Award winner, is Bristol City Council's flagship green venue. It offers flexible spaces for conferences, training, events and exhibitions and provides workspace to a cluster of 27 green and ethical businesses.
One of the tenants, Café Create, which serves hot and cold food made from fresh locally sourced ingredients, was also awarded a Gold Fairtrade Business Award.
The results were announced at a ceremony at the At-Bristol Science Centre hosted by ethical beauty and wellbeing expert Liz Earle MBE and was attended by 142 business leaders.
The ceremony was the culmination of Fairtrade Fortnight celebrations in the region. It forms part of the Sit Down for Breakfast, Stand Up for Farmers campaign highlighting the fact that many farmers in developing countries provide food for us, but don't get paid enough to feed their own families – an injustice Fairtrade seeks to redress.
Businesses that use and sell Fairtrade products make a significant contribution to reducing poverty in developing countries and helping achieve the UN Sustainable Development Goals. Fairtrade also enables businesses to achieve transparency in supply chains, which is demanded by the Modern Slavery Act 2015.
The 68 shortlisted businesses have between them spent nearly £500,000 on Fairtrade products, making a massive difference to the lives of producers in developing countries.
Senior Create Officer Michelle Scoplin said: "This is now our third year winning the Gold award and we are over the moon. Massive thanks go out to Jenny Foster from Fairtrade South West for yet again arranging a great event and enabling all these like-minded people and businesses to meet."
Councillor Daniella Radice, Assistant Mayor for Neighbourhoods added: "Winning a  Gold Fairtrade award three years in a row is a huge achievement for the Create Centre and reflects the hard work and passion of the team who are always striving to do better. It is a real testament to Bristol's commitment to fair trade and a great way to continue the legacy of being European Green Capital."
For more information about the Fairtrade Business Awards: Jenny Foster, Bristol and South West Fairtrade Co-ordinator bristolfairtradenetwork@gmail.com
Bristol became a Fairtrade City in 2005
The Fairtrade Business Awards are run by Business West, South West Fairtrade, Destination Bristol and Bristol City Council.