Due to the COVID-19 Pandemic, The Create Centre and Ecohome will be closed until further notice. We would like to thank you all for your support in this decision.
Create is a vibrant environment centre which hosts a range of events and exhibitions and features a purpose-built Ecohome . The centre is a great venue for meetings, seminars and conferences as well as providing flexible workspace to several environmental organisations. Create is owned and managed by Bristol City Council.
Visit Create to explore environmental issues and discover greener choices. Join us for our programme of activities. Create welcomes visits from school parties and other groups, however booking is essential for groups. Contact us to enquire about group visits.
Energy and environment
We're committed to improving the local environment and helping to protect it for the future.
Environmental policy
Read our Environmental Policy (pdf, 309k)  .
This policy shows our commitment to reducing our environmental impacts.
---
Create is also open for special evening and weekend events during the year
Café Create is open Monday to Friday, 08:30 – 3.30 as well as for special events.  Sophie and her team offer tasty lunches and snacks, all made at Create using fresh, locally sourced ingredients.  More…
Create is pleased to support Bristol Green Capital – working towards making Bristol a low-carbon city with a high quality of life.
To view Bristol City Council's Environment Policy click here.
---
Going for Gold – Sustainable Food Ethics at Create

The Create Centre has joined the Going for Gold bid to help Bristol become a Gold Sustainable Food City. One of the ways we contribute is by having our conference room and resident organisations' milk delivered in refillable glass bottles, from a local supplier. We also encourage building users and the in-house café to pick herbs from the ecohome garden.
What is Going For Gold?
Going for Gold is a Bristol-wide bid to be recognised as a Gold Sustainable Food City. Sustainable Food Cities is a national programme that celebrates and supports communities that are making positive changes to their food system. As one of only four cities to achieve Silver status, Bristol has already shown that it has the motivation to make Good Food part of the city's identity. Now, individuals, organisations and policy makers are joining together to make big and lasting improvements across six key Food Action Areas. Read on to discover how you or your organisation can play a part in this major leap towards making food that is good for people, the planet and the city accessible to everyone.
---
Championing Fairtrade within the Council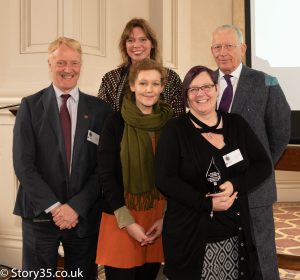 Our small team of four have been entering the South West Fairtrade Business awards since we started seven years ago. From 2014 to 2017 we have come away with the gold award for either best Fairtrade office or best Fairtrade accommodation or conference centre. We have managed to achieve this through our continuous work promoting and supporting Fairtrade, which we do by running promotional events, tasting sessions, quizzes and by, where ever possible, only sourcing Fairtrade or Fairly traded goods for resale to our tenants and meeting room users.
In 2018 and as announced early afternoon on the 8th of March 2019, The Create Centre has been awarded the Blue Glass Award for the best overall Accommodation or Conference centre in the South West. We won last year because of our awareness raising events and stocking of Fairtrade tea towels. This year because of our work including Fairtrade in our newsletter and making Fairtrade business packs to encourage more people and businesses to choose Fairtrade.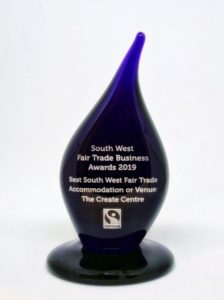 Every member of our team works to promote Fairtrade and the incredible things they do to support farmers and workers across the supply chain and all over the world, we live in such an unequal and unfair world but Fairtrade is an organisation truly trying to change that.
We would like to encourage more people to look at the different ways they can support Fairtrade and its goals, it is something most of us are aware of but not something that we all champion or look for when shopping.
This year Fairtrade have announced their new three year plan: SHE DESERVES A LIVING INCOME
In support of this, they are running a petition to take exploitation out of cocoa, if you do nothing else please sign the petition to show your support of producers working hard every day but still living below the poverty line: https://action.fairtrade.org.uk/page/37866/petition/1?ea.tracking.id=dff50cel
It's time to make Trade Fair!
---
Create Centre awarded Green Tourism Gold Status for 2015
Bristol's flagship environment centre has struck gold once again.
The multiple-award-winning Create Centre, which is owned and managed by Bristol City Council, is one of only four conference venues in the South West to boast gold status.
As well as offering flexible spaces for conferences, training, events and exhibitions, Create is home to 27 green and ethical businesses.
Create officers have worked closely with the council's environment team to draw-up an action plan, complete with targets, to maintain gold status, with entrants being assessed every two years.
George Ferguson, Mayor of Bristol, said: "Another month and another gold award for the Create Centre, which is, of course, more good news for Bristol.
"The Create Centre is a one of many jewels in Bristol's crown and it's setting the gold standard when it comes to sustainable living and working.
"As we move further into our year as European Green Capital, it's important for all of us to think about the choices we make.  If you haven't already been, I'd recommend a visit to the Create Centre, which is a great place to explore environmental issues and discover greener choices."
Councillor Daniella Radice, Assistant Mayor for the Environment, added: "I'm delighted the Create Centre has maintained its Green Tourism Gold status, and my congratulations and thanks go to the team for their efforts.
"It is adding to the awards for Create this year – the excellent Café Create having won the Fairtrade restaurant award for Bristol too."
Michelle Scoplin, Senior Create Officer, said: "We think the scheme has a very positive impact on Create.  The preparation for the audit, together with the advice from the assessor, encourages us to keep our green ethos at the very top of our agenda, and to constantly think about new ways we can become even more environmentally friendly.
"During Bristol's year as European Green Capital we really want to show people what's possible and how making even small changes can help to make our city a healthier and happier place for everyone to enjoy."
Create Centre wins Green Tourism Gold Star Award
Bristol's flagship environment centre has scooped a top Green Tourism award.
The Create Centre, which is owned and managed by Bristol City Council, has won a Green Tourism Gold Star award in the best conference / events venue category.
Senior Create officer Michelle Scoplin and Create officer Phil Tomlinson received the award on behalf of Bristol City Council at a special ceremony in Manchester on Monday (10 November).
Mayor of Bristol, George Ferguson, said: "The Create Centre remains a key driving force in the city's continued and growing reputation as a place where environmental change remains a central focus.
"Winning this award is great news, particularly in the lead up to Bristol 2015 European Green Capital, and I thank the Create Centre team for all of their efforts.
"Harnessing the energy of both people and organisations from across the city is absolutely crucial in maximising the opportunity of our Green Capital year as a platform for promoting the city on the world stage."
Bristol City Council uses a European Eco Management and Audit Scheme (EMAS) to drive environmental improvements across all of its services. Create is part of the corporate EMAS certificate.
Joint work by the EMAS team and Energy Service led to improved environmental performance, including reduced energy/carbon intensity, from 1.24 tonnes of CO2 per tenant in 2010/11 to 0.64 tonnes in 2013/14.
Water consumption in this period also significantly reduced from 9m 3 to 5m3 per tenant.
Assistant Mayor for the Environment, Councillor Gus Hoyt, said: "The Create Centre is an excellent example of what we are doing to make real environmental improvements across all council services. They are indeed a deserving winner of this accolade.
"The statistics speak for themselves – the centre nearly halved its CO2 per tenant between 2010/11 and 2013/14, and this is something to really be proud of."
The Green Tourism Gold Star award honours businesses and organisations, which have done the most to promote sustainability within the industry. This includes cost-saving practices that help the environment, while improving customer service.
The Gold Star award is only open to organisations which already have the Green Tourism Gold award. This meant the Create Centre saw off competition from a shortlist of top performing businesses.
All of these businesses were assessed for their innovation, cost savings and green ambassadorship during 2013/14.