SARAH GUPPY: THE BRIDGE, THE BED, THE TRUTH
Bristol 6-9 November, Monmouth 10 November
Sarah Guppy: the first woman to patent a bridge and the first to formally design one.
She also patented a breakfast machine and an exercise bed, had 6 children and married Charlie Coote, her second husband, when she was 66 – and he was 31. Oh yes – and mentored young IK Brunel with that winning entry for the Clifton Bridge Competition.  And possibly more.  With new revelations about a truly remarkable woman living at an extraordinary time,
SARAH GUPPY: THE BRIDGE, THE BED, THE TRUTH opens at the Hen & Chicken, Bedminster (Tues & Wed, 6 & 7 November 8.30pm) then the Create Centre, Hotwells (Thur & Fri 8 & 9 November, 4pm and 6.30pm).
The show lasts an hour and all tickets are £10.
Sarah Guppy: engineer, inventor, campaigner, designer, reformer, writer, environmentalist and businesswoman, to name but eight. She was virtually forgotten in 2006, when Show Of Strength produced AN AUDIENCE WITH SARAH GUPPY as part of 'Brunel 200'.  Now she's in the Oxford Dictionary of National Biography – with an entry by Bristol's Madge Dresser.  With new discoveries about her life and work this is a completely new show – with some surprises in store.
Writer/producer Sheila Hannon said, "We've got The A Team: Bristol's Kim Hicks returns as Sarah, and Sue Colverd directed our acclaimed FANNY AND JOHNNIE CRADOCK COOK THE GREAT AMERICAN SONGBOOK – and has an Olivier Award nomination for Best Comedy Performance. Bristol stencil artist Stewy has created an image of Sarah from a pencil sketch by Brunel.  With 2018 celebrating both the Centenary of Women's Suffrage and Year of Engineering, this is the perfect time for Sarah to tell her fascinating story.  And did she really design the Clifton Suspension Bridge?  You'll have to see the show to find out."
SARAH GUPPY: THE BRIDGE, THE BED, THE TRUTH
Hen & Chicken, Bedminster Tue/Wed 6 & 7 November (8.30pm)
Create Centre, Hotwells Thu/Fri 9 & 10 November (4pm & 6.30pm)
Savoy Theatre, Monmouth Saturday 11 November 2pm.
Performance lasts 1 hour. All tickets £10.
Bristol tickets/booking Hen & Chicken
Bristol tickets/booking Create Centre
Monmouth tickets/booking http://www.monmouth-savoy.co.uk/
Supported by
HM Government 1918-2018 Celebrating Votes for Women
Bristol Women's Voice
The Ove Arup Foundation
UWE Bristol
Quartet Community Foundation
Bristol 247
Bristol Festival of Ideas
Part of Deeds Not Words celebrations
Follow Show of Strength on Facebook, Twitter @showofstrength, Instagram @showofstrengthtc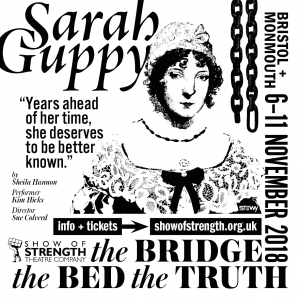 Transformabin is now at Create!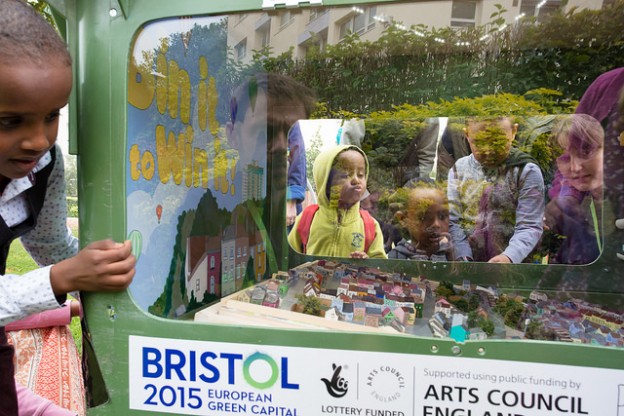 As part of Bristol's 2015 Green Capital celebrations, 14 unique community inspired projects were commissioned for each of it's Neighbourhood Partnerships. Mufti Games with Baggator Young People's Project successfully pitched to Ashley, Lawrence Hill and Easton Partnership to create a fun project highlighting issues relating to household waste, fly-tipping, and recycling in the local area.
From this the Transformabin was created; a communal bin converted into a playable games station. The simple labyrinth style game highlights the effects that waste has on our city, combining fun and imagination with a positive envorimental message.
The Transformbin is a permanent fixture at Create and can be found in our gallery,
Monday to Friday, 9-5pm.
Regular Activity

'The UK discards nearly a million tonnes of textiles every year ' (WRAP)
This exploration of some of the aspects of textile sustainability consists of two parts. Firstly the CREATE Centre hosts a permanent exhibition of information about textile sustainability, including advice, explanations, and facts and figures. This exhibition is open during CREATE opening hours. The second part is the practical activity days that take place on most Wednesdays from mid morning to mid afternoon. Here the exhibition is extended to include examples of domestic items made from fabrics that would otherwise have been sent to landfill. In addition, such items as cushions, tea cosies, table mats and many other items are being made on the spot, with the intention of encouraging visitors to start or continue their own work. At all the times the exhibition and practical activities are open, free small fabric pieces are usually available so that visitors can take them to incorporate in their own projects.
FABRICation is run by Mike Timmins, who is experienced in decorative textiles as well as textile science and technology.