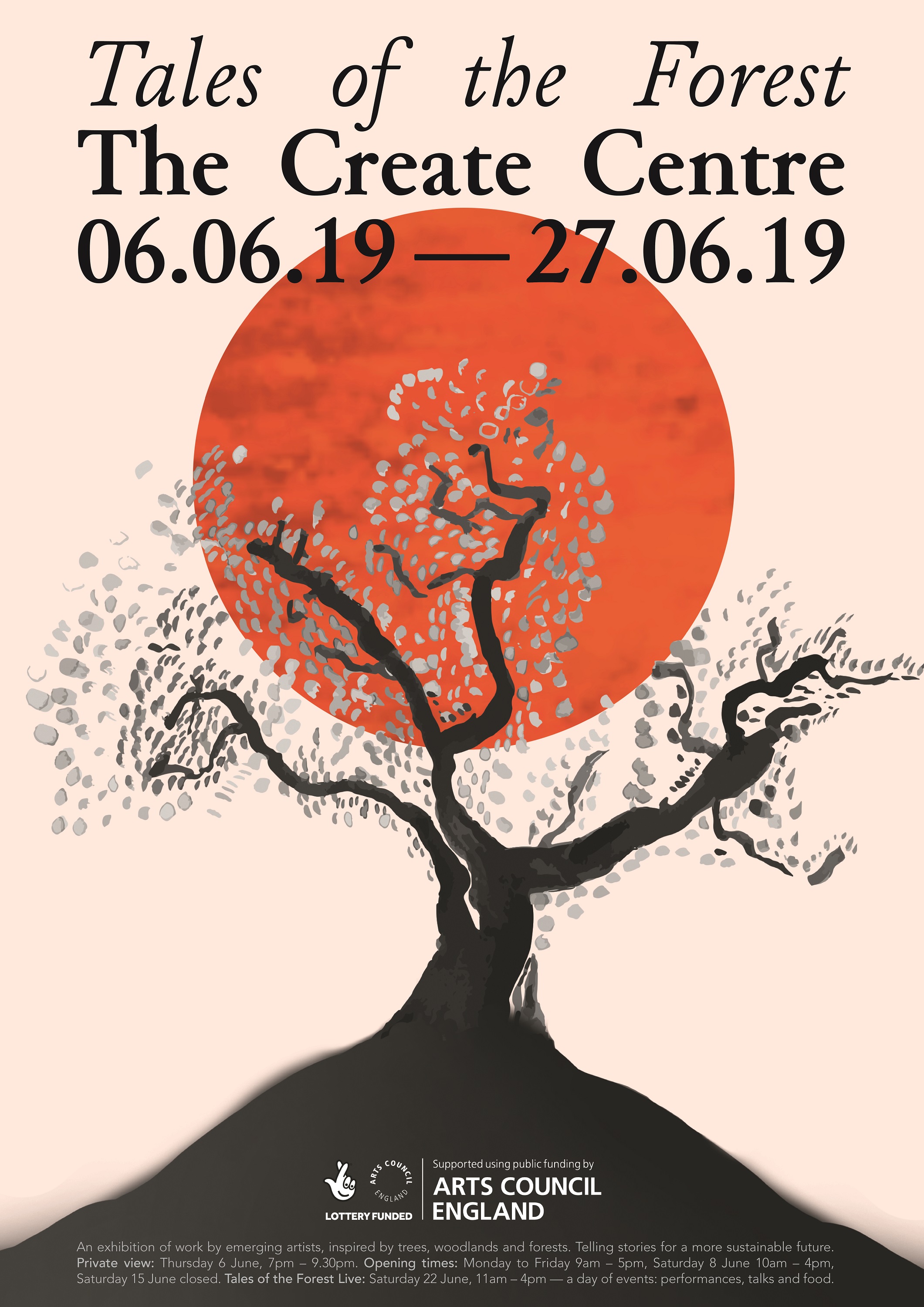 TALES OF THE FOREST – An exhibition of work by emerging artists, inspired by trees, woodlands and forests.
How can storytelling, art and collaboration form a path to more sustainable and inclusive futures?
The exhibition will showcase the multidisciplinary work of emerging artists, who are delving into the world of trees, woodlands and forests. Encompassing animation, sculpture, sound and illustration the artworks are designed to excite, engage and inspire, with something for all ages.
PRIVATE VIEW: Thursday 6th June 2019 7.00 – 9.30
Please join us for a night of art and conversation, an opportunity to meet a group of exciting emerging artists!
ABOUT THIS PROJECT
Tales of the Forest is an ecological art project that aims to use imagination to look in new ways at contemporary issues, from sustainability and the natural world, to ageing and loneliness, exploring how these things might be related. The project is about looking at the narratives we live by, understanding them as malleable, and re-imaging them through art, collaboration and experimentation.
This exhibition is accompanied by a series of intergenerational workshops in care homes and a community picnic event on the 22nd of June.
Tales of the Forest is generously supported by Arts Council England and The Gane Trust.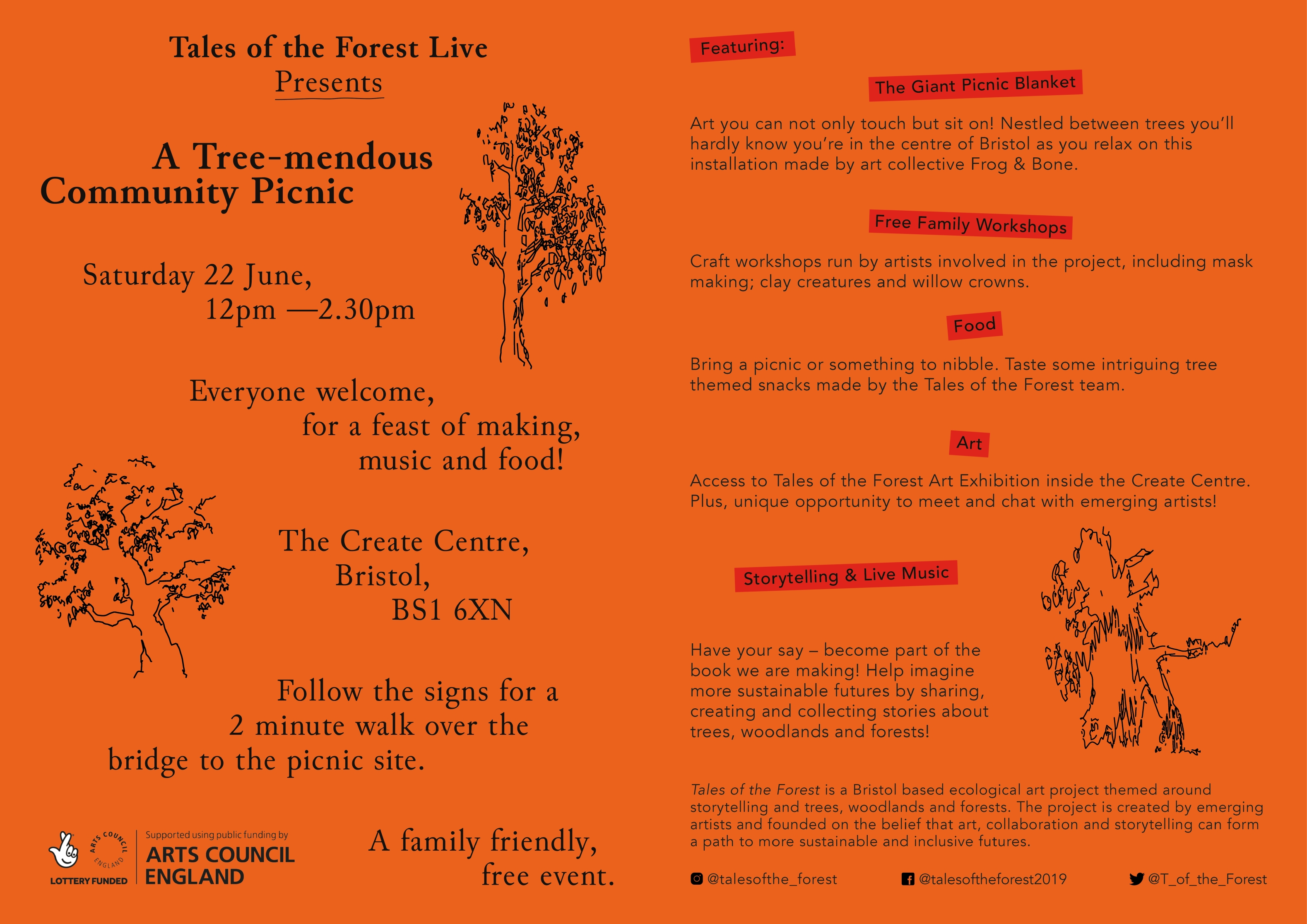 Transformabin is now at Create!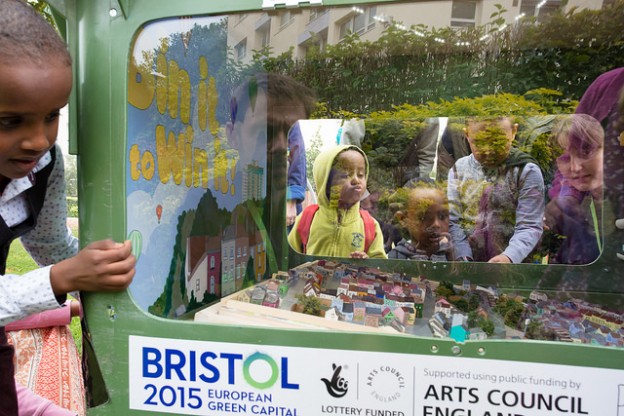 As part of Bristol's 2015 Green Capital celebrations, 14 unique community inspired projects were commissioned for each of it's Neighbourhood Partnerships. Mufti Games with Baggator Young People's Project successfully pitched to Ashley, Lawrence Hill and Easton Partnership to create a fun project highlighting issues relating to household waste, fly-tipping, and recycling in the local area.
From this the Transformabin was created; a communal bin converted into a playable games station. The simple labyrinth style game highlights the effects that waste has on our city, combining fun and imagination with a positive envorimental message.
The Transformbin is a permanent fixture at Create and can be found in our gallery,
Monday to Friday, 9-5pm.
Regular Activity

'The UK discards nearly a million tonnes of textiles every year ' (WRAP)
This exploration of some of the aspects of textile sustainability consists of two parts. Firstly the CREATE Centre hosts a permanent exhibition of information about textile sustainability, including advice, explanations, and facts and figures. This exhibition is open during CREATE opening hours. The second part is the practical activity days that take place on most Wednesdays from mid morning to mid afternoon. Here the exhibition is extended to include examples of domestic items made from fabrics that would otherwise have been sent to landfill. In addition, such items as cushions, tea cosies, table mats and many other items are being made on the spot, with the intention of encouraging visitors to start or continue their own work. At all the times the exhibition and practical activities are open, free small fabric pieces are usually available so that visitors can take them to incorporate in their own projects.
FABRICation is run by Mike Timmins, who is experienced in decorative textiles as well as textile science and technology.