Space for Creativity
Create Centre
20th – 29th July (Closed Saturday and Sunday)
10am – 5pm
'Meet the Artists' on Thursday 29th July. 5pm – 8pm.
This is a vibrant exhibition celebrating paintings produced by a group of 11 women artists working with Laurel Smart from March 2020 to June 2021. Laurel's large abstracts will also be on show.
Isolated yet together, they met weekly on zoom. They formed a strong connection, shared ideas and thoughts which encouraged their creativity resulting in a wide range of styles and genres.
Artists:  Jane Boot, Di Ward, Jo Hearn, Jan Denton, Kate Howard, Lyn Harradine, Liza Donoghue, Maggie Pearson, Mina Malpass, Stella Berkeley, Susie Harvey, Laurel Smart
Space for Creativity is a mentoring course run by tutor Laurel Smart as part of the Bristol Adult Learning Service.
Come by bike, car, bus, train, ferry or extend your harbourside walk. Two minutes walk from Lockside Restaurant and four minutes walk from Riverside Garden Centre.
See directions here https://www.createbristol.org/contact-us/
For more information contact: laurel.smart@blueyonder.co.uk or Instagram @laurelsmart
Transformabin is now at Create!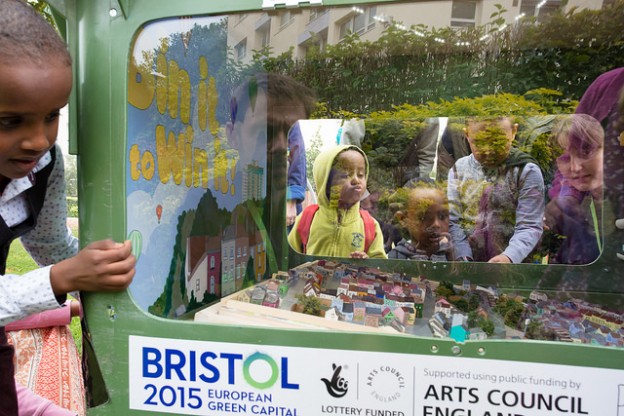 As part of Bristol's 2015 Green Capital celebrations, 14 unique community inspired projects were commissioned for each of it's Neighbourhood Partnerships. Mufti Games with Baggator Young People's Project successfully pitched to Ashley, Lawrence Hill and Easton Partnership to create a fun project highlighting issues relating to household waste, fly-tipping, and recycling in the local area.
From this the Transformabin was created; a communal bin converted into a playable games station. The simple labyrinth style game highlights the effects that waste has on our city, combining fun and imagination with a positive envorimental message.
The Transformbin is a permanent fixture at Create and can be found in our gallery,
Monday to Friday, 9-5pm.
Regular Activity

'The UK discards nearly a million tonnes of textiles every year ' (WRAP)
This exploration of some of the aspects of textile sustainability consists of two parts. Firstly the CREATE Centre hosts a permanent exhibition of information about textile sustainability, including advice, explanations, and facts and figures. This exhibition is open during CREATE opening hours. The second part is the practical activity days that take place on most Wednesdays from mid morning to mid afternoon. Here the exhibition is extended to include examples of domestic items made from fabrics that would otherwise have been sent to landfill. In addition, such items as cushions, tea cosies, table mats and many other items are being made on the spot, with the intention of encouraging visitors to start or continue their own work. At all the times the exhibition and practical activities are open, free small fabric pieces are usually available so that visitors can take them to incorporate in their own projects.
FABRICation is run by Mike Timmins, who is experienced in decorative textiles as well as textile science and technology.